M&T Bank Stadium Seating Chart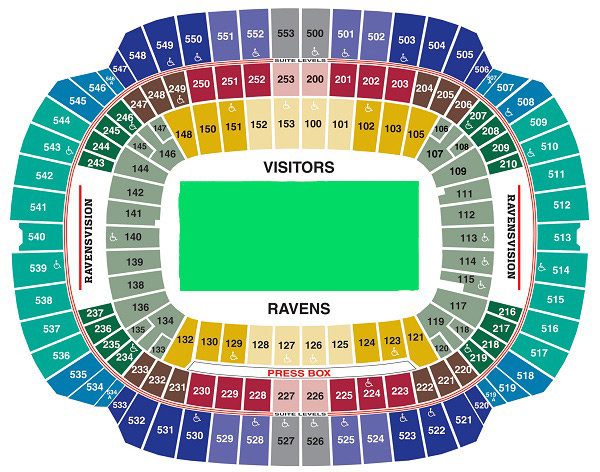 NOTE: Seating configurations can change depending on the type of event. Always check the individual event seating chart when selecting your tickets.
There are five levels at the stadium, being the lower bowl, club level, 300 suites level, 400 suites level, and the upper bowl. The lower bowl contains 42 rows of seats which are then split into two sections. The seats below the tunnel entrances are labeled from 1 to 18 and the seats above the tunnels are labeled from 19 to 42. This is excluding sections 123-130, which contain rows 19-35, due to the press box taking up sideline space.
On the club level, the rows are labeled from 1 to 13 on the sidelines, and 1 to 17 in the corners where no suites are located. In the upper bowl, the sideline seats are labeled from 1 to 32, while in the upper bowl end zones, the rows range from 1 to 26.
Seat widths for the lower and upper bowls of the stadium vary from 19 to 21 inches, due to the curve design of the stadium, while the padded club seats range from 21 to 23 inches respectively.
What are the best seats at M&T Bank Stadium?
We all know that if money is not an issue then everyone would want to go with a box or club seats. 
The best less expensive best seats in the stadium would be between rows 10 and 20 in the 100s sections. Remember that Sections 113-125 are where you will get closer to the center of the field. Sections 127-140 are where you will get closer to the 50-yard line.
Secure your seat today by purchasing your tickets. Visit the M&T Bank Stadium schedule to get started.
To view the ticket & refund policy please read the ticket information page.